Dear Customers,
I wanted to write and assure you that Andreasens Green is open for business.
Our sales team, horticulturalists and production team are continuing to support your business create great landscapes.
The Nursery & Garden Industry NSW/ACT have confirmed with NSW Minister for Agriculture that wholesale and production nurseries are considered "essential services" and should conduct "business as usual".
To help prevent the spread of COVID-19 we have implemented additional protocols to protect customers, suppliers, staff and visitors:
Contactless delivery docket procedure for customers and our delivery drivers (refer attached letter)
Social distancing rules in place for reception & all pick-ups from the nursery. All drivers to wait next to their vehicle for service from dispatch team
Cash transactions have ceased. EFTPOS and contactless credit card payments will continue
All orders should be pre-arranged by phone or email. This enables safe, efficient loading and to avoid delays for the customer.
No entry to the nursery - Pre-arranged orders only. Any pick up orders are to be pre-arranged by phone or email prior to entry.
(refer table below for cases where visitors are not permitted to enter nursery)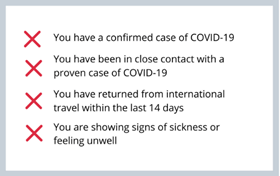 All Andreasens Green staff continue to practice good hygiene and 1.5 m social distancing within our nursery sites. It is a requirement that all visitors follow these practices while on site. These practices are signposted around the Nursery to remind visitors.
The Andreasens Green Board and Staff would like to take this opportunity to thank you for your support over the past forty years. We want to assure you that we are continually adapting our work processes and practices to safely manage our way through the COVID-19 pandemic. We are focussed on continuing the supply of plants, trees and great service to your business like we have been doing for the past 40 years.
Please contact me on Ph. 02 9826 1911 or on email brett@andreasensgreen.com.au if you have any questions about the above.
Kind Regards
Brett Sargeant
Chief Executive Officer
Andreasens Green Wholesale Nurseries
Updated Operating Procedures.
Please click to view or download