Lot 4 Elizabeth Drive, Kemps Creek, NSW 2178
Po Box 17, Kemps Creek, NSW 2178
Phone: (02) 9826 1911 | Fax: (02) 9826 1655 | Email: sales@andreasensgreen.com.au
Andreasens Green Wholesale Nursery General Terms & Conditions (1 October 2021)
1. Availability of Stock
a. Orders must have a set delivery date for available stock to be allocated to an order.
b. All stock quoted by Andreasens Green is subject to availability at time of order placement.
c. Prices stated are GST exclusive and valid for a period of 30 days from date of quotation.
d. All prices and charges are subject to change without notice.
e. If an order is not taken within 30 days of the set delivery date the Andreasens Green owned stock shall be unallocated from the order.
2. Ordering and Payment
a. Acceptance of a quotation shall be made in writing via email confirmation.
b. Changes to orders, after placement, are required in writing and are subject to availability at the time of notification.
c. Payment of orders via credit card will incur a 1.5% surcharge.
d. Orders placed by non account customers must be paid in full prior to picking and dispatch.
3. Delivery conditions
a. Deliveries are carried out Monday – Friday, between 7am – 2pm, excluding public holidays.
b. Outside the above specified hours will be subject to a surcharge (POA).
c. If a 7am delivery is required, bookings must to be made four days in advance subject to truck availability.
d. Deliveries are made to the kerb side or site entrance only.
e. Freight quoted is an estimate only based on loads as indicated in the quote and will be charged based on the number of deliveries eventually required. This may result in additional freight charges.
f. External Truck Hire is quoted on and may be required for all stock equal to or greater than 500LT and for high volumes of 200 and 400 LT stock
4. Outsourcing of Stock
a. Stock that has been outsourced specifically for an order must be taken in full.
b. Outsourced stock that is cancelled after it has been delivered to Andreasens Green must be taken in full or will be charged at 100% of the quoted price.
5. Unloading at Customer Site
a. Customers must have personnel on site at time of delivery to carry out unloading. If no personnel are present to assist, the stock may return to Andreasens Green and the customer may be charged a restocking fee of 20% of invoice value.
b. Required number of Customer Staff & Machinery for onsite deliveries.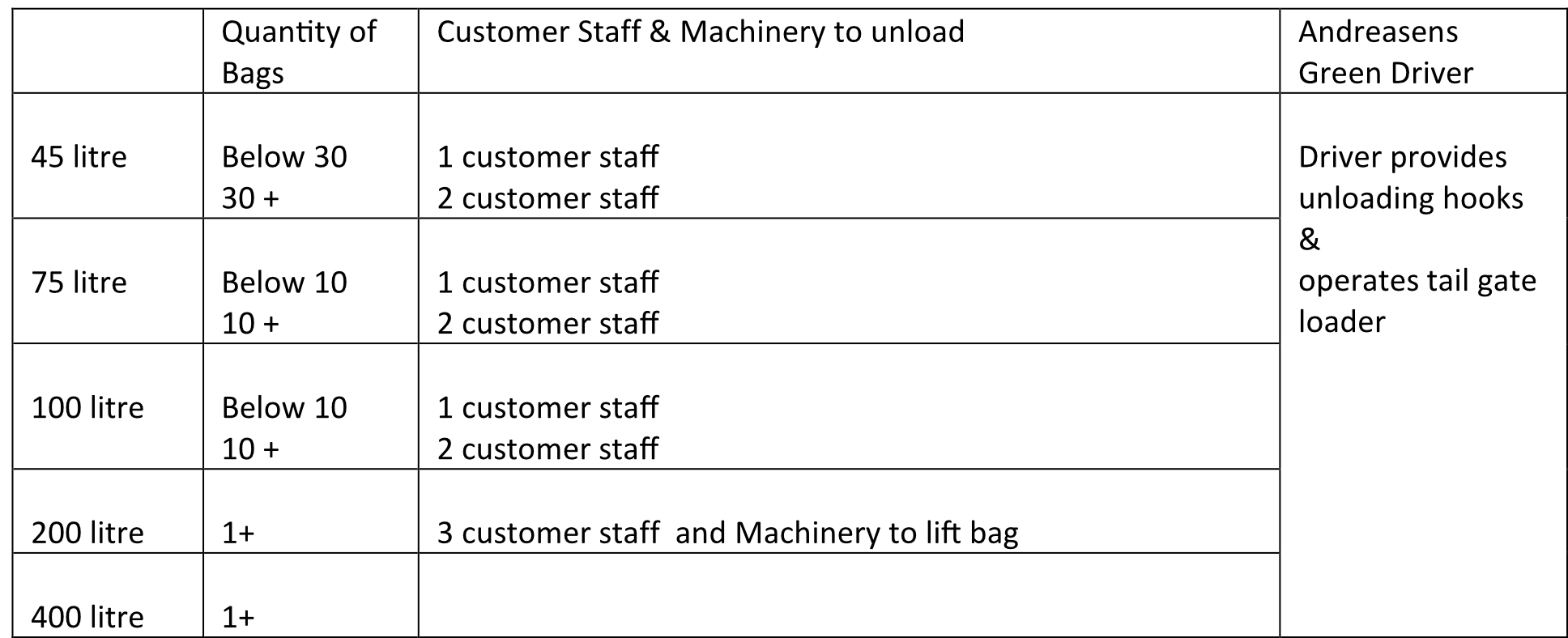 If the above requirements above are not met the Andreasens Green driver will ask his Manager to contact the Customer and seek additional staff and machinery.
In the event that no additional staff and machinery is available a redelivery will be organised with the customer. This will result in a restocking fee of 20% invoice value being charged to the customer.
c. One hour is allowed for the unloading of the delivery vehicle. Charges will apply, at the discretion of Andreasens Green, every half hour over the first hour ($75 ex GST per half hour) if on site delays occur.
d. Machinery (Bobcat/Teleloader/Crane) and staff members are required from the customer on site for the, Workplace Health & Safety compliant, unloading of stock 75lt & larger. Failure to provide the necessary machinery and/or staff will result in the stock not being released and a redelivery fee of $300 ex GST applied in addition to the original delivery fee.
e. Delivery of large specimens or high volumes of stock may require delivery via specialised transport e.g. flat bed crane truck. These will be quoted and charged as a separate freight component. Delays while using the specialised transport beyond the above mentioned one hour allowance for unloading shall incur additional charges.
6. Cancellations
a. If an order is cancelled, Andreasens Green will use its best endeavours to on-sell any stock that is commonly grown and held by the company. If Andreasens Green is unable to do this, the customer will be charged 100% of the quoted price.
b. If an order OR delivery is cancelled OR postponed after it has been picked and / or loaded on the delivery vehicle, a 20% of invoice value restocking will be charged to the customer.
c. Orders or deliveries cancelled OR postponed whilst in transit or on arrival to site will also incur a delivery cancellation fee. This is in addition to the original delivery fee AND re-stocking fee. If the delivery is reorganised for another time within 5 days the cost is $300 ex GST. If the delivery is organised outside of this 5 day window then a 20% of invoice value restocking fee will be charged to the customer.
7. Returns
a. Returns may be credited or refunded at the discretion of Andreasens Green.
b. Stock will only be credited if Andreasens Green is notified within 48 hours of delivery and returned within five days of delivery. The returned stock must be in the same condition as it was dispatched by Andreasens Green
c. Returns due to the fault of Andreasens Green (damaged stock etc.) shall be credited or refunded to the customers account with no additional charge.
d. Returns due to the fault of the customer (over ordering, ordering wrong species etc.) of Andreasens Green grown stock will incur a handling and administration charge of 20% of the invoice value. This fee will be deducted off the credited amount.
e. Returned stock specifically outsourced for an order will not be credited.
f. If an Andreasens Green truck is requested to pick up stock for return for credit, the customer will be charged a fee of $250 (ex GST) or original quoted delivery fee (whichever is greater).
8. AS2303:2018 – Tree Reports
a. The customer must notify Andreasens Green if tree reports are required at time of quoting.
b. Tree reports as per AS2303:2018 will incur a cost of $100 (ex GST) per batch tested.
c. Trees used in partial or full destructive testing will be supplied to the project as part of the order.
d. Tree reports must be completed at our growing sites prior to dispatch. A minimum of 5 business day's notice prior to despatch is required. We cannot supply retrospective Tree Testing Reports for any trees already delivered to site.
e. Andreasens Green can only provide reports on stock grown by Andreasens Green.
f. With reasonable notice, the client is welcome to organise an external company to inspect and prepare tree reports at one of our growing sites.
9. Project Delay Management
a. At the discretion of Andreasens Green, orders that have a supply time of 60 days or greater from time of placement shall require a supply agreement, signed by both parties.
b. The conditions outlined in the supply agreement are designed to protect the health and vigour of the stock, to reduce wastage and ensure the agreed stock is supplied to your project. One or a combination of the following management strategies may be applied in the event of project supply delays.
i) Re-allocation
Andreasens Green reserves the right to release any stock and re-allocate to the next available batch if stock is not taken within the agreed timeframe. All planned actions shall be communicated with the customer prior to reallocation of stock.
ii) Holding fees
The Holding fees tabled below, apply to all stock lines that are not delivered within 30 days of the agreed delivery time.
iii) Pot On fees
Any lengthy delays may require a 'Pot On' variation as per table below. Once the stock has
been 'Potted On' a new delivery timeframe must be agreed to.